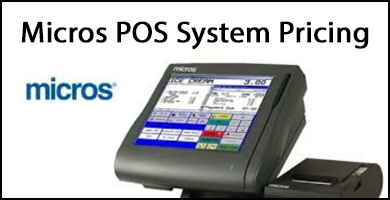 Are you a restaurant owner looking to install a POS system? If so, this guide is for you! Continue reading to learn more about everything you need to know about the Micros POS System: what it does, pros and cons, and how much it costs.
In This Guide:
The Micros Restaurant POS System
The Micros restaurant POS system is an Oracle product that is designed for restaurants and businesses in the hospitality industry. It includes a wide variety of features that address several key components of running a restaurant, including taking orders, inventory management, scheduling, and payment processing.
This specific solution is sold as a turn-key system, but it can also be customized to your unique business needs. Here are some of the most popular features that make the Micros restaurant POS system a powerful tool:
Quick service kiosks
Extensive reporting analytics capabilities
Kitchen display systems
Mobile options and digital communications
Options that make updating menus, pricing, and item descriptions simple
Labor management
Inventory management
Video security
Gift and loyalty programs
These are just some of the powerful features you can utilize if you invest in the Micros POS system!
Micros Pros
There are many benefits to the Micros Restaurant POS System, including extensive reporting done in real-time that can help you boost profitability and control your costs.
The system's kitchen display can help you consolidate online and in-store orders, and the conversational ordering feature lets you take control of how orders are entered into the system. This encourages upselling opportunities and allows for greater flexibility to change orders as you enter them. An additional advantage of the system is the key employee management features that are included. It offers a payroll system with a cost Calculator, training and onboarding tools, shift forecasting, and time clock enforcement.
Likewise, you can protect your information with a cloud-based security infrastructure that you can access anywhere, at any time.
Micros Cons
The Micros restaurant POS system is a great solution, but it does have several drawbacks that you must consider before moving forward with this option.
The biggest downside to choosing this system is that Oracle requires you to use their systems to make this platform work. That means any legacy systems or tools not made by Oracle will not integrate or function with the Micros POS system.
Similarly, because the system was designed to be easy to use, it looks very outdated and old-fashioned. The system could use some design and interface upgrades since they look like they were developed in the early 2000s.
Not every feature in the Micros POS system is user friendly either. It can be complex to set up reports, and many features will require product-specific training before implementation.
Another drawback to this POS system is the fact that they do not offer an off-the-shelf platform. Installation requires working with an Oracle team to custom develop your platform, which can drive up costs in the long run.
Micros POS System Cost
So, how much does the Micros restaurant POS system cost? The short answer is it depends.
The upfront licensing starts around $5,000, but the total cost of ownership will vary based on the number of users, level of service, and other features that you select.
Other fees that you must consider include the following: subscription fees, payment processing fees, onboarding and training costs, and other charges that result from customization or data migration. There may also be charges in the future for maintenance and upgrades.
It can be difficult to estimate the cost of a Micros POS system since there are no set pricing plans or feature packages - everything is customized based on your business requirements. While this can be a benefit because you're not paying for things that you do not need, it can also increase your risk of unanticipated costs.
References: