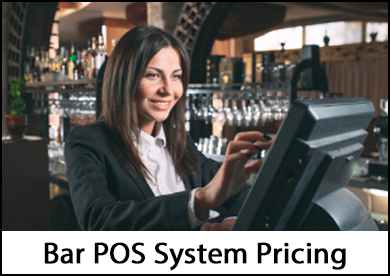 When you own a bar, having the right POS system can help your business grow and run more efficiently. This guide will review the average cost of a bar POS system, as well as some of the top brands available.
In This Guide:
Top Bar POS Brands
The Average Cost of a Bar POS System
One of the most important considerations when choosing which bar POS system to implement is cost. Generally, prices will vary depending on the type of technology you choose - as well as how many terminals and employees need to have access.
Some platforms can be purchased off the shelf, and these basic systems cost around $1,000. The downside to these options is that you have to set up everything yourself, and you will likely not receive any customer support. Similarly, the functionality may not be sufficient to optimize your bar.
More sophisticated options will cost you anywhere from $3,000 to $10,000. These all-inclusive POS systems integrate everything from the hardware and software to employee training and customer support. They will also provide a payment processing system that can generate reports and allow you to efficiently track KPIs.
Top Bar POS Brands
So, what are the top bar POS system brands?
The two industry leaders are TouchBistro and Toast. Let's dive in further to the features they include and the prices associated with implementing these systems.
TouchBistro
The TouchBistro point-of-sale system has risen to the top when it comes to POS platforms for bars. The design and integration features allow you to manage your entire bar from your phone or tablet without losing any functionality.
They allow you to integrate the payment processor of your choosing, and it supports other third-party tools as well. As a result, you have extensive flexibility when managing your business!
TouchBistro Features
One of the reasons that TouchBistro is considered the best POS system for bars is the wide variety of features that they offer. The system is ideal for bars of all sizes, and the powerful features combine the convenience of a mobile interface with the effectiveness of a traditional restaurant POS system!
Some of the other key features include:
CRM tools
Quick menu updates and integrations
Inventory management systems
Robust payment solutions
Employee scheduling and time tracking
TouchBistro Pricing
If you are interested in installing the TouchBistro POS system, they provide a free trial so that you can get a feeling of how the platform will work for your business. From there, the monthly pricing begins at $69.99 per user, per month.
The following aspects are included in that base pricing: cloud-based analytics and reporting, 24/7 customer support, menu table management, and other additional features. If you want to add things like reservations, the price will go up about $229 per month. Online ordering will also cost you an extra $50 per month.
Toast POS
The Toast Bar POS system is another top-tier point-of-sale platform. This option is different because it uses an Android operating system, but this allows your bar to customize many of the tools and functionality provided.
Toast Features
Not only does the Toast POS system offer many useful features, but it also has an intuitive operating system and user-friendly screens. When you combine this with the robust reporting capabilities, it is not difficult to see why this is a great choice to manage your bar!
Here are some additional features included in the platform:
eCommerce integrations
Employee management
Automatic inventory tracking
Guest feedback tools
Cloud-based analytics
Toast Pricing
The subscription to the Toast POS software starts at $75 per month, per terminal. This is the standard package, and it comes with order workflows and basic menu management. Upgrades like inventory management and online order require additional monthly fees.
Since you are required to utilize their hardware, you must purchase their starter kit. The price for this begins at $999, and there is an additional remote installation cost of $500.
References: