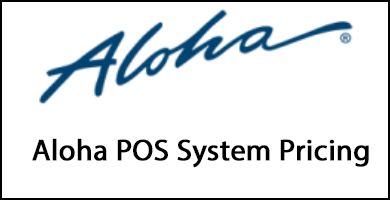 Choosing the right POS system for your business is an important decision. This is why we put together a guide to help you understand the pros and cons of an Aloha POS System, as well as the cost associated with setting it up.
In This Guide:
Aloha Restaurant POS System Features
The Aloha Restaurant POS System is a point-of-sale platform that was made for every kind of dining establishment. The goal behind this platform is to enhance the customer experience, improve your ability to manage your restaurant, and help you grow your bottom line without sacrificing the quality of service.
This tool allows you to enter payments and take orders so that food can be prepared and delivered quickly and accurately. Here are some of the popular features found on the Aloha POS System:
Automated ordering features
Inventory and delivery management systems
Extensive reporting including labor costs, category sales, and item sales
Employee theft detection
Cloud data services and offline modes
Handheld and mobile capabilities
Consumer engagement features
Aloha Pros
There are several benefits to the Aloha Restaurant POS Systems, including its versatile software and ease of use. Its features allow you to do everything from taking orders conveniently and quickly, to managing your employees.
It has a user-friendly dashboard that makes training and onboarding simple and offers extensive employee controls for payroll, scheduling, and performance reporting.
The Aloha POS System includes an inventory management software that will instantly alert you when something needs to be ordered and incorporates auto-replenishment features. Similarly, the platform is equipped with impressive theft detection that allows them to address issues as soon as they occur.
Another benefit of this system is the reporting and analytics that it provides. You will receive statistics regarding labor trends and key sales to help you make better decisions for your restaurant.
Aloha Cons
Although there are some great features included in the Aloha POS System, there are some disadvantages as well.
Some of the end-of-day functions can be overly complex, and items may close automatically even if a shift is still running. Similarly, there are some complaints that it takes too many clicks to complete a transaction, process an order, or set up a new feature.
A major complaint is the lack of pricing transparency, and many clients have reported that this option is too expensive for small restaurants.
Another disadvantage to the Aloha Restaurant POS System is that there is no flexibility when it comes to payment processing and hardware. You are required to use their system when you install the platform, and the payment processing options are limited.
Others have also reported that outages have occurred, causing their employees to fall behind during busy times.
Aloha POS System Cost
If you want to know how much it will cost to install the Aloha POS System for your business, you will have to contact the company to obtain a quote. The price will vary depending on several factors like the following: the size of your business, number of employees, type of equipment and services provided, and more.
The total cost of ownership for this system must take into account installation, monthly subscription fees, maintenance and upgrades, payment processing rates, and any additional charges for customization or data migration.
While some clients have reported paying about $200 per terminal per month, there may be lower or higher pricing depending on the features you choose. This vendor keeps its pricing very private, so you will not know how much you have to pay until you contact a representative and have an in-depth conversation with them regarding your needs.
References: