Your Time Is Valuable, Let POS System World Do The Work For You
The sole purpose for cash register tills were to keep money organized and to provide change. Today's POS systems can calculate change, tips, collect customer information and send both customer information and transaction data in real time to corporate headquarters. POS system touch screens simplify operation so customers get out the door and on their way quickly.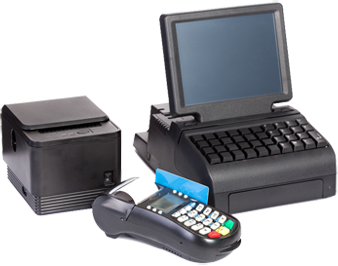 Advancements in POS system technology allow companies to track inventory, profits and analyze traffic trends down to the hour of service. POS systems can track employee time, feeding time card information directly into payroll applications. Companies can control menus and deploy changes to every POS terminal instantaneously. In short, POS systems help business run smooth and efficiently, reduce your business costs, increase productivity and customer service.
We represent all major POS System brands and network with all POS system leaders. Whether you're looking to buy a new POS system, add a new POS terminal, upgrade POS software, upgrade POS hardware or repair an existing POS system, we're here to help you get your best POS system price!